Los Alamitos Office Tour
Patients are our #1 priority
Dr. Robert Pugach allows ample time with patients
to thoroughly discuss your diagnosis, care and treatment plan.
Patient education is a priority at
Pacific Coast Urology Medical Center.
Dr. Robert Pugach immediately evaluates your
laboratory specimens during your visit.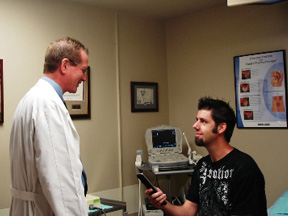 Dr. Pugach offers No Needle/ No Scalpel Vasectomy 
patient Mike a remote control for viewing the overhead
TV during his vasectomy!
---
TREATMENT/PROCEDURE ROOMS
Pacific Coast Urology Medical Center is on the forefront of advanced technology. Dr. Robert Pugach and his expert staff treat a variety of urological condition, including microwave and radiofrequency wave thermotherapy for enlarged prostates (BPH). Dr. Robert Pugach uses these minimally invasive methods in his office to gently heat and shrink a man's prostate. Dr. Robert Pugach believes that this treatment is one of the most remarkable developments to ever occur in urology, because it allows men to be treated for prostate enlargement without surgery or expensive medications.